Festival-Trailer for EXPERIMENTA #10 – November 28 - December 3, 2017 in Bangalore, India

This is the brandnew trailer that I made for the 10th edition of EXPERIMENTA film festival, starting on Tuesday in Bangalore. But this trailer is much more than "just" a trailer, it's also a preview for my forthcoming film _GALORE, which we shot in September/October in the markets and bazaars of Bangalore. We managed to shoot in 28 jam-packed shops within a tight schedule of two weeks, and this was only possible with the amazing support of my crew, so a big thank you to Poornabodh Nadavatti, Siddharth Govindan and Vishnu Nambiar!!! Further I would like to thank the Goethe Institut/Max Mueller Bhavan and Experimenta for inviting me for this year's bangaloREsidency and making all this possible: Thank you Shai Heredia, Claus Heimes, Maureen Gonsalves, Nora Duchêne, Aditi Rajeev and Gavati Wad!!

My film CAMERA THREAT will also be screened there in the International Competition section on Thursday, 30th November 2017, 14:15 hrs

EXPERIMENTA programme  |  EXPERIMENTA schedule

A really nice review on CAMERA THREAT, written by Matt Turner on MUBI Notebook.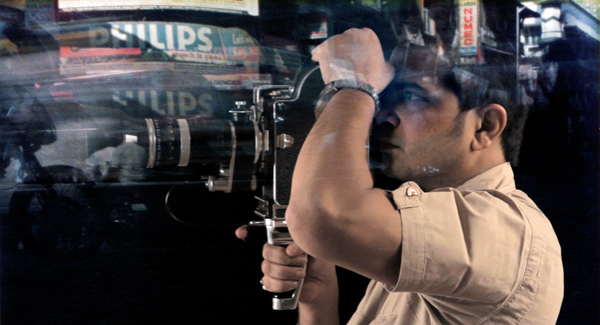 Double Projection of CAMERA THREAT at the UNESCO World Day for Audiovisual Heritage

This is the rare opportunity to see CAMERA THREAT in its originally intended form of presentation as a digital / 35mm double projection with the filmmaker himself sitting in the projection booth and controlling the synchronization between the two projectors by hand and on the fly, why the film is being screened.

The program has been curated by Elena Hahn, Sophie Krambrich, Laura Reboredo Raposo & Esther Riese In cooperation with the master program Film Culture Heritage at Filmuniversity Babelsberg KONRAD WOLF and will also feature the experimental film BLACK by Anouk de Clercq. Both filmmakers will be present and join a discussion after the screening. The evening will be hosted by Sophia Wetzke.

> FACEBOOK EVENT

Friday  |  Oct 27th  |  19:00 hrs  |  Filmmuseum Potsdam, Breite Straße 1A, 14467 Potsdam

Panel Discussion and TRAVELING WITH MAXIM GORKIY at Dokfilmwoche Hamburg

Film scholar Alejandro Bachmann invited me to join him for a panel discussion along with artist-filmmaker Rizki Lazuardi. We will talk about our works, analogue film practice and each present our artists-run analogue filmlabs - Lab Laba-Laba in Jakarta and LaborBerlin in Berlin. In between we will screen Traveling with Maxim Gorkiy, a found footage film that I made together with Kolja Kunt in 2014 - projecting the original found 1980's Super-8 Kodachrome K40 roll.

Saturday  |  Apr 22nd  |  16:00 hrs  |  Fotofabrique Gängeviertel

World Premiere: CAMERA THREAT at Berlinale Forum Expanded

Finally it's out: Camera Threat, the film I was working on for the last 3-4 years, will see the light of the projector bulbs at the 67th Berlin International Film Festival. And the exciting thing is: It will be screened as a 35mm/digital dual-projector-setup in the following locations:

Tuesday | Feb 14th | 17:30 hrs |  Arsenal Cinema 1
afterwards: Q&A with Mumbai based actress Mansi Multani & the director

Friday |  Feb 17th |  21:30 hrs |  Akademie der Künste
afterwards: Q&A with the director.

Plus there will be another screening in the Shorts Mix program, but no fancy dual-projection or Q&A, just purely digital:
Saturday |  Feb 18th |  16:30 hrs |  CinemaxX 5

Tickets | Trailer |  Facebook

Two new films at LaborBerlin-showcase DIFFRAKTION: EIN TONFILM und FULTU FALTU FILIM

Two brandnew little films of mine, "Ein Tonfilm", a Super-8 found footage film with magnetic sound - finished last night - and "Fultu Faltu Filim", a hybrid material that has gone through multiple stages of deterioration will be screened in this fantastic venue, a former crematory.

Besided our own films, we will also host a program with films by members of Filmkoop Wien and a performance by Sally Golding.

at Silent Green Kulturquartier – Gerichtstraße 35, Berlin-Wedding
Doors open 19h30, Films start at 20h00 – Damage: 8/10 Euro

LaborBerlin | Silent Green | Facebook

TRAVELING WITH MAXIM GORKIY at Currents: Santa Fe International New Media Festival

Our film will screen in the program "Experimental Documentary Series: Shorts Program".

Wednesday, June 15th 2016
7 pm at Violet Crown Cinema
#1606 Alcaldesa Street, Santa Fe, NM 87501, USA

and

Wednesday, June 22nd 2016
7 pm at Violet Crown Cinema
#1606 Alcaldesa Street, Santa Fe, NM 87501, USA

Website | Facebook
TRAVELING WITH MAXIM GORKIY at the CHICAGO UNDERGROUND FILM FESTIVAL

Our film will be part of the program "Shorts 6: The Emperor".

Saturday, June 04, 2016
5 pm at The Logan Theatre
#2646 N Milwaukee Ave, Chicago, Illinois 60647, USA

Schedule | Facebook
TRAVELING WITH MAXIM GORKIY is touring Italy with Analogica Selection

3rd June 2016 - Unzalab, MILANO, 9pm
5th June 2016 - Ventaglieri 76A, NAPOLI, 9pm
6th June 2016 - Via Fanfulla da Lodi 5A, ROMA, 9pm


MUITO ROMÂNTICO - Trailer by Distruktur

Recently I had made this trailer for the latest feature film by filmmaker duo Distruktur (Melissa Dullius and Gustavo Jahn), which is completely made on 16mm celluloid film, and which premiered at Berlinale Forum Expanded this year.


BATAGUR BASKA - new music video for Guido Möbius

Mysterious images for an even more mysterious track "Batagur Baska" by Guido Möbius. This is the title track of his album "Batagur Baska", to be released on 1st April 2016 on Shitkatapult.

Exclusive Online-Premiere
Musik Express 15th March 2016

Record Release Party
with Debmaster, Guido Möbius, group A and DJ Marius Reisser
9th April 2016, 22h00
at Urban Spree
Revaler Str. 99, 10245 Berlin

BATAGUR BASKA and THE VOICE OF GOD at Ausland Berlin

LABORBERLIN is going to project films of members and friends in 16mm and 35mm celluloid format. Amongst others, there will be two films of mine, one virgin 35mm print of the Voice of God (2011) and one PREPREMIERE of Batagur Baska, a brand new music clip for a phantastic music track by
Guido Möbius, that I shot in Rio de Janeiro on Super-8, digitally blown up to 35mm in Mumbai, and all projected with my fancy new & old GDR-projector TK35.

Furthermore there will be 12 other works with a total duration of 89 minutes
Please find the details here: http://ausland-berlin.de/film-aint-dead

This evening is part of our crowdfunding campaign FILM AIN'T DEAD!
Since we collect money for a good reason, there won't be any guestlist.

After the projection musical entertainment will be provided by mfx.

Thursday 25. Februar 2016
doors 20h00, start 20h30

ausland
Lychener Str. 60, 10437 Berlin

LaborBerlin | FaceBook | Guido Möbius
UNTERWEGS MIT MAXIM GORKIY at Stuttgarter Filmwinter

Stuttgarter Filmwinter - Rahmenprogramm
16th January 2016 11:00 hrs
Kunstraum34, Filderstraße 34, 70180 Stuttgart
UNTERWEGS MIT MAXIM GORKIY - NRW Premiere

Blicke - Filmfestival des Ruhrgebiets, Bochum, Germany
27th November 2015 22:00 hrs
Endstation Kino, Bahnhof Langendreer, Wallbaumweg 108, 44894 Bochum
UNTERWEGS MIT MAXIM GORKIY - Canada Premiere

The 3rd film at Antimatter: After True Love is just Filmi and the Voice of God now Unterwegs mit Maxim Gorkiy will be screened at:

Antimatter [Media Art]
October 23st 2015 19:00 hrs
Deluge Contemporary Art, 636 Yates St, Victoria, BC Canada V8W 1L3
UNTERWEGS MIT MAXIM GORKIY - Poland Premiere

And another Premiere: Unterwegs mit Maxim Gorkiy has been selected for the European competition at Szczecin European Film Festival.

Szczecin European Film Festival
October 23th 2015 17:30 hrs
Akademia Sztuki, 70-562 Szczecin, Poland
UNTERWEGS MIT MAXIM GORKIY - Argentina Premiere

Festival Internacional de Cine independiente de La Plata Festifreak
11th October 2015 17:00 hrs
Centro Cultural Pasaje Dardo Rocha, Sala Polivalente, Buenos Aires, Argentina
UNTERWEGS MIT MAXIM GORKIY - Italian Premiere

Analogica Festival #5
October 1st – 4th 2015
UNTERWEGS MIT MAXIM GORKIY - South American Premiere

Unterwegs mit Maxim Gorkiy has been selected amongst 15 out of 1,713 submissions for the international competition at FESTCURTASBH Belo Horizonte International Short Film Festival in Brazil. And we are very excited to be able to send one of us there - which is only possible with the support of AG Kurzfilm/German Films.

FESTCURTASBH
September 19th – 28th 2015
UNTERWEGS MIT MAXIM GORKIY - Indonesian Premiere

Filmmaker and curator Philip Widmann shows Unterwegs mit Maxim Gorkiy in his program The Black Holes of History (1), at Arkipel International Documentary & Experimental Film Festival in Jakarta.

The Black Holes of History (1)
26th August 2015 15:00 - 17:00 hrs
GoetheHaus Sam Ratulangi 9-15, Jakarta - 10350
UNTERWEGS MIT MAXIM GORKIY at backup Weimar

Our film Unterwegs mit Maxim Gorkiy will be part of the exhibition backup_art_screen, at the Gaswerk in Weimar.

backup_art_screen:
27th to 31st May 2015
Gaswerk, Schwanseestr.92, 99423 Weimar, Germany

backup | Facebook
UNTERWEGS MIT MAXIM GORKIY at EMAF

For those who are planning to attend EMAF - European Media Art Festival in Osnabrück: Our film Unterwegs mit Maxim Gorkiy screens in the program (RE-) VISIONARIES, along with 3 other films, all (re-)inventing reality or history.

(RE-) VISIONARIES:
Sat, 25th April 2015 - 4:30pm at Lagerhalle
Rolandsmauer 26, 49074 Osnabrück, Germany

damage: 6 Euros (5 Euros reduced)

EMAF | Facebook | Event

UNTERWEGS MIT MAXIM GORKIY at CROSSROADS San Francisco

We are very excited to announce that our film Unterwegs mit Maxim Gorkiy has been selected for the CROSSROADS festival in San Francisco. It runs in Program 7 - Glimpses of Soviet Science: Demolished Every Second - presented by San Francisco Cinematheque.

Sunday, April 12, 2015
3:30 pm at Victoria Theatre
#2961, 16th Street, San Francisco, CA 94103
phone (415) 863-7576

Crossroads | Facebook
UNTERWEGS MIT MAXIM GORKIY - BEIM LANDSHUTER KURZFILMFESTIVAL
WIR SIND BESTER DOKUMENTARFILM!

Unser Film Unterwegs mit Maxim Gorkiy gewinnt seinen ersten Preis als "Bester Dokumentarfilm" beim Landshuter Kurzfilmfestival. Leider konnten wir selber nicht dort sein...

Samstag, 21. März 2015, 17 Uhr
im Kinopolis Kino 1
Am Alten Viehmarkt 5
84028 Landshut
UNTERWEGS MIT MAXIM GORKIY - BEIM INTERNATIONALEN KURZFILMFESTIVAL BUNTER HUND IM WERKSTATTKINO MÜNCHEN

Unterwegs mit Maxim Gorkiy ist im Wettbewerb. Zu sehen zusammen mit 10 weiteren Kurz- und Experimentalfilmen im Programmblock Anders & Artig

Donnerstag, 12. März 2015, 22 Uhr und
Freitag, 13. März 2015, 16 Uhr

im Werkstattkino München, Fraunhoferstraße 9, 80469 München

Karten immer nur an der Abendkasse. Die ist 30 Minuten
vor Vorstellungsbeginn geöffnet. Vorbestellungen und
Reservierungen sind nicht möglich, auch nicht telefonisch im Kino.

Tickets kosten 6 €.

UNTERWEGS MIT MAXIM GORKIY - IM WETTBEWERB
AUF DEN 16. DRESDNER SCHMALFILMTAGEN

Endlich mal eine vernünftige Veranstaltung in Dresden! Und auch an den anderen Tagen gibt es ein sehr interessantes Programm! LaborBerlin wird auch dort sein mit einem Filmblock und Installationen!

Samstag, 24. Januar 2015, 21 Uhr

Motorenhalle – Projektzentrum für zeitgenössische Kunst
Wachsbleichstraße 4a, 01067 Dresden

Tickets: 0351-8660211
Festivalpass 25 €, erm. 20 €
Tageskarte 10 €, erm. 8 €
Einzelkarte 6 €, erm. 5 €

Schmalfilmtage | Facebook

UNTERWEGS MIT MAXIM GORKIY - SCREENING IM AUSLAND

Das Filmkollektiv LaborBerlin und ausland feiern DIY-Filmkultur und Kolja Kunt und ich sind dabei: "Unterwegs mit Maxim Gorkiy" ist Teil eines wilden Filmabends mit Super8 und 16mm Projektionen.

Das Programm besteht aus drei Blöcken: Frühe Filme, Neue Filme und Performances. Es deckt eine große Bandbreite des filmischen Schaffens ab - seit der Gründung des Kollektivs vor 10 Jahren bis zum heutigen Tag. Die Vielfalt von LaborBerlin macht seine Stärke aus: Eine internationale Community bestehend aus Filmemachern und Künstlern verschiedenster Richtungen und Kulturen. Sie alle nutzen den analogen Film als gemeinsame Sprache.

Zwischen und nach dem Filmprogramm: Party mit Dj mfx.

Sonntag 23. November 2014
Tür 19h30, Beginn 20h

ausland
Lychener Str. 60, 10437 Berlin

UNTERWEGS MIT MAXIM GORKIY - DEUTSCHLAND-PREMIERE

Kolja und ich freuen uns sehr, dass unser gemeinsamer Film "Unterwegs mit Maxim Gorkiy" endlich in Berlin zu sehen ist. Und zwar im Original auf
Super-8 und innerhalb eines Programms mit 6 Filmen und Performances,
die die Grenzen zwischen Bewusstem und Unbewusstem, Erinnerung
und Traum erkunden.

Das Programm PROJEKTIONEN wurde kuratiert von Anja Dornieden
und Juan David González Monroy und startet am Donnerstag,
dem 25. September um 19:30 im kunstraum t27

kunstraum t27
Thomasstr. 27
12053 Berlin

UNTERWEGS MIT MAXIM GORKIY - WELTPREMIERE

Kolja Kunt and me are very happy to announce the world premiere of our latest Found-Footage-Film Unterwegs mit Maxim Gorkiy at the K3 Film Festival in Villach, Austria on Sept 17th 2014.

You can find the full program here: K3 Film Festival